What could possibly be unhealthy about ice cream, right? Milk, eggs, cream, a dash of salt and some sugar... Well, if those WERE the ingredients in what "big dairy" calls ice cream, you might only have to worry about the calorie count and maybe the salt or sugar.
But wholesome ingredients are not what "big dairy" is feeding us. Most off-the-shelf ice cream is filled with nasty chemicals including some that are found in antifreeze! Many farmers are also injecting their cows with genetically-engineered bovine growth hormone (rBGH).
None of this is particularly good news for the ice cream lover. So I decided to CUT OUT the diary from the ice cream so you can feel good about putting it back in your freezer.
In
Healthy Homemade Ice Cream
you get 62 pages of mouth-watering all-natural ice cream recipes that use fruits, nuts and other natural ingredients you can feel good about eating and serving to your loved ones. It's literally ice cream that's healthy for you!
Sample recipes from this collection:
Two Ingredient Banana Chocolate Chip Ice Cream Bits
Sweet Corn Ice Cream with Fresh Raspberry Sauce
Strawberry Chocolate Coconut Nests
Ice Cream with Chocolate and Pecan Butter Caramel Toppings
Ice Cream Tarts with Chocolate Sauce and Pecans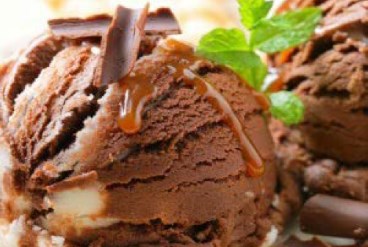 Chocolate Macadamia with Caramel Sauce
Format: PDF
Is there any smell in the kitchen more mouth-watering than freshly baked bread? It's not simply a smell, it's a warm, enticing fragrance that promises your taste buds a treat to eat.
Unfortunately, if you're gluten-intolerant, diabetic, or prone to counting calories, bread may be one of the LAST food choices you'd ever want to make. Well, until now...
Because it's really not
bread
that is so bad for you, it's the combination of highly-processed grains, sugar, and all those scary chemicals that go into making bread stay "fresh" longer.
The solution?
Get rid of those nutritional "evil-doers" by switching to my tested system of
Healthy Homemade Bread Making
. Now you'll be able to eat bread (like I do, and I eat it often) which is NOTHING like that gummy, floury, processed goop that passes for bread in the market today!
Sample recipes from this collection:
Almond Flour Paleo Bread
Almond Quinoa Chia Bread
Banana Bread Paleo Single Serve
Banana Walnut Loaf
Blueberry Breakfast Bread
Carrot Zucchini Bread
Format: PDF
Straight from my kitchen to yours
100 Mouth-Watering Recipes
for healthy snacks and treats + 16 bonus desserts.
Do yourself a favor and start adding to your daily menu a few of the snacks and desserts that you will find in the pages of this little book. All of the recipes as from my own kitchen, tested for taste and composed of only healthy raw ingredients that pack your diet with the nutrition your body needs to fight off any case of the munchies or food cravings that ca spoil your attempt to get your metabolism on track.
Sample recipes from this collection:
Barfi
Carrot Cake
Peach Tart
Carob Fudge
Lime Cheesecake Cups
Red Squares
Format: PDF
Yes, it's true. I have something of a sweet tooth. And if you do too you'll love the more than
100 Healthy Raw Dessert Recipes
I've prepared for you...
I tried to come up with 50 recipes for no bake, sugar free, gluten free easy to make desserts. But I overshot the mark and soon discovered I had more than I could fit in one book! So my exuberance is YOUR gain and I'm giving you not one, but TWO volumes to enjoy to your heart's content!
Sample recipes from this collection:
Apricot Pie
Banana Chocolate Ice Cream Cake
Cashew Raspberry Cake
Ginger Cake
Maca Cupcakes
Lemon Raspberry Cake
Format: PDF
Let's face it, life without dessert is, well, boring. Nothing tops off a great meal like a little plate of something sweet and delicious. But, if you're like me, you cringe at the thought of putting even one fork-full of processed sugar and chemical-laden GMOs into your body.
That's because it makes no sense to eat healthy meals and then ruin the benefit with nasty desserts. That's why I've prepared
50 Desserts With Hidden Veggies
.
It's nothing less than 50 paleo-friendly, no bake, no sugar, gluten-free, super healthy recipes that taste great and are good for you!
Sample recipes from this collection:
Almond Avocado Fudge
Chocolate Zucchini Cheesecake
Pumpkin Bites
Raspberry Coconut Fudge
Spinach Coconut Bars
Sweet Potato Bars
Format: PDF
The quest for eternal youth drives a multi-billion-dollar anti-aging industry of treatments, injections, pills, masks and more. Problem is, none of these products are designed to help you restore balance in your life.
Moreover, simply eating the
wrong foods
can sap your energy, endanger your health, and make you look and feel YEARS OLDER than you are!
Inside
The Anti-Aging Foods Compendium
you'll discover a concise yet comprehensive summary of the best foods you can eat to age gracefully and the TEN worst things you can put in your mouth. It's an approach founded in the belief that you can effect organic, natural changes to your body that preserve and extend your youthful looks and the youthful vigor that we all cherish.
There's even an entire chapter devoted to avoiding the negative health issues associated with something you likely eat every day.
Sample anti-aging foods from this collection:
Green Kiwi Fruit
Mango
Makadamia
Passion Fruit
Pomegranate
Red Guava
Format: PDF
Would you like to change your life by following an extremely simple diet? Have you ever struggled with your weight and believed there must be a simpler way to make sense of the bewildering array of diet choices out there today?
In this guide I'll provide you with the very same nutrition secrets that cavemen used to maintain a healthy and fit body while at the same time they remained almost entirely free of excess body fat reserves.
The Paleo Diet
is so easy to stick to and you won't even feel like you are on a diet just by eating most of the foods you normally eat right now!
The Paleo Diet
is all about going back to your caveman roots!
Format: PDF
With over 3,000 chemical additives "approved" for use in food, it has become increasingly difficult to avoid putting anything into your mouth that didn't originate in the natural world.
But with
Transitioning To Paleo
now you can do exactly that.
You'll get access to a healthy and delicious array of meal choices that are NOT expensive, NOT hard to prepare, and NOT simply another new fad diet. In fact, the healthy food choices in this Paleo, or Paleolithic, diet originated more than 2.5 million years ago.
This is how your body was designed to work - with the foods that human beings were always meant to eat - the foods that appeared naturally in early mankind's environment - long before chemists and corporations took over the food chain!
Format: PDF
I think it's fair to say that most people have no idea about the importance that achieving good health plays in securing for yourself a lifestyle where money is plentiful and the ordinary stresses and strain of life are vastly diminished.
I'd go so far as to say that unless you know how to carefully fit these two puzzle pieces together, it's unlikely you will ever achieve all that you want in life.
With
Healthier Wealthier You
I set out to reveal the exact connection between your physical, emotional and financial health so that you can benefit from them to enrich your life. It's an approach that I've been following for decades.
Most people don't know these secrets, but a select few do. And now it's your turn become both healthier and wealthier!
Format: PDF
For years I've watched women (and a lot of men) make themselves miserable doing something that's supposed to make them happier - and healthier. I'm talking about the process of dieting for weight loss. The idea of losing weight to improve your health. But from everything I've seen, that's a totally FLAWED philosopy. Even a BACKWARDS philosopy...
In
Rebound Free Weight Loss
I start with a completely OPPOSITE point of view. I proposed that if you want to lose weight and keep it off, you've got to start by being healthier.
In this, my groundbreaking book that explains how to take the weight off permanently, you'll discover everything you need to know to put an end to the vicious cycle of yo-you dieting (on again/off again weight cycling) once and for all.
Format: PDF
In my companion title to
Rebound Free Weight Loss
you'll learn the
two phases
you need to master to conquer weight loss once and for all.
Rebound Free Weight Loss - 20 Day Nutrition Bootcamp
begins with
phase one
which is designed to bring your hormones back to a balanced state called homeostasis. Hormones are critical to the way your body processed food and you cannot hope to maintain a healthy body weight when they are essentially running wild in your body!
In
phase two
you'll be provided with meal plans for each day. Phase 2 also adds the exercise component, another critical tool in the regulation of your body's fundamential biochemical processes. It doesn't hurt that exercise also makes you fell great too!
Format: PDF